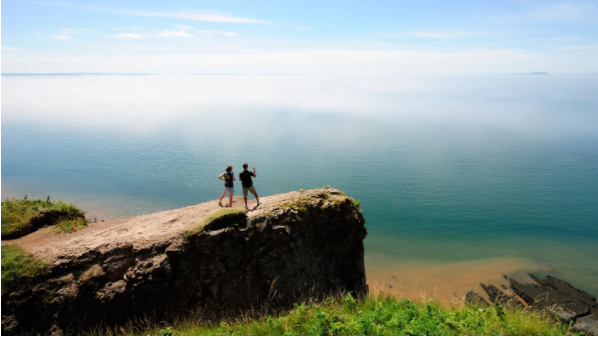 The province of Nova Scotia would be an island if it weren't for a short strip of land dividing New Brunswick and Nova Scotia at the intersection of Highways 2 and 104. It is renowned as Canada's Ocean Playground because it is surrounded by Atlantic Ocean waters and is, by some metrics, the hottest province in the country. It was also one of the first European settlement areas in North America. 
Today, I'm going to share a list of fun activities to do in Nova Scotia to help you plan your summer trip to the province. I saw a lot of Nova Scotia during my month there, but there's still a lot more to see. Don't be tricked into thinking that because Nova Scotia is the second-smallest province in Canada, you can see it all in a week.
Most visitors arriving by road (other choices include boarding one of the four ferries or flying) begin their journey at the Amherst Visitor Information Center (90 Cumberland Loop, Amherst) on the Trans Canada Highway en route from New Brunswick. There are no limits to the attractions on offer in Nova Scotia, Canada. Get planned, book air Canada reservations online, and save up to 35% off on every flight. For your ease, here are the most beautiful places you should definitely take a look at.
check out for more traveling information on https://focusintro.com/category/travel/
Go lighthouse spotting
It should come as no surprise that Nova Scotia has the largest collection of lighthouses in Canada, given its rough coastline. Despite the fact that Peggy's Cove Lighthouse (also known as Peggy's Point Lighthouse) is one of the top spots to see in Nova Scotia, there's plenty more to see as you travel around the province. look for the replica of the original that was destroyed during the legendary conflicts between the French and the English. You'll see a lot of them as you go along the coast.
Victoria Park
Victoria Park, located in the heart of Truro, one of Nova Scotia's most visited crossroads towns in the province's center, is 1,000 acres of pure enjoyment. A flowing river, cascading waterfalls, a steep-sided valley, and an ages-old Eastern Hemlock forest are among the park's natural treasures. Hiking, bird-watching, picnics, cycling, winter activities like snowshoeing and cross-country skiing, summer sports like swimming and tennis, and live music are all available in this park. Some visitors even attempt the 175-step climb to Jacob's Ladder's summit.
helicopter to an island picnic
Board your helicopter at the Halifax Stanfield airport and receive a bird's eye view of the city before soaring over azure waters to remote Sambro Island. Here, you'll have a private picnic and wine tasting with a sommelier on an island that's all yours.
Chow down on seafood
Nova Scotia is famed for its delicious lobsters, savory chowders, and fresh seafood. On your journey to the East Coast, try some beachside lobster boils, go on the chowder trail, learn how to shuck oysters, and pick up some fishing tips from the locals. Make your way along the lobster trail to Baddeck Lobster Suppers, Old Fish Factory in Lunenburg, and, of course, La Cuisine Robicheau for lobster tacos and creamed lobster. Toss in some lobster beer and lobster fries to round out your meal. Everything is lobster!
Shubenacadie River (Shubenacadie)
The Shubenacadie River, southwest of Truro, flows roughly 70 kilometers from its source at Shubenacadie Grand Lake to its mouth in the ancient seaport village of Maitland on Cobequid Bay, attracting adventure seekers. Cobequid Bay is known for being the site of the construction of William D. Lawrence, Canada's largest wooden ship. The Shubenacadie River has been recognized as one of Canada's top five whitewater rivers. The river is tidal for the first 30 kilometers (from the point where the Stewiacke River meets the mouth), and tidal bores occur twice daily, with some reaching 10 feet, making it a natural roller-coaster wonder.
Go stargazing
There are several sites to stargaze in Nova Scotia, and you're sure to have a fascinating experience if you come. For one of North America's greatest astronomy opportunities, stay at Trout Point Lodge, the world's first Starlight hotel. Astronomers are even on hand to inform visitors about the constellations above them.
Conclusion 
Scenic driving, hiking opportunities, delicious seafood, and vibrant fishing communities are just a few of the highlights of a visit to Canada's second-smallest province. Stop searching and book your trip with AirlinesMap and customize your travel package. Get ready to explore the best of city offers!