Hook Yourself Up With the Best Wireless Keyboard and Mouse Under $100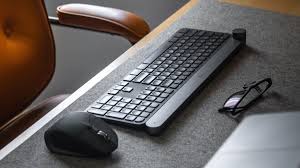 A reader writes:
 I've taken to plugging my best gaming laptop into my HDTV when watching Hulu, streaming Netflix, or when I'm tired of squinting at my tiny screen. Unfortunately, I've discovered my arms are not long enough to reach the keyboard and touchpad when I'm laying on the couch. I need a wireless keyboard and mouse that will let me not only take charge of the Netflix queue but also bang out an e-mail or two without having to leave the butt groove in my sofa. I don't want to spend a ton of cash, so Just Tell Me What To Get! 
Dear reader:
These days, each wireless keyboard and mouse combo is as unique as the humble snowflake, so your simple question sets up a hefty challenge. While a Bluetooth-input device offers more versatility and compatibility than does a device with an exclusively designed wireless dongle, such models are often more expensive and require some tinkering to get working. On the other hand, those that use proprietary wireless tech — like Logitech's Unifying receiver system — are usually cheaper than their Bluetooth counterparts, tend to work the moment they're plugged in, and don't suffer from the lag between key presses and on-screen actions that can affect budget Bluetooth solutions. That's why we suggest you save yourself the cash and hassle; pick up the Logitech MK520 set for a perfectly reasonable $59.99.
The keyboard is stylish, but nothing fancy. Squared, but with eye-friendly rounded edges, the Logitech's matte-black keys sit atop the glossy black frame. Forgoing Mac minimalism, it's not a chiclet-style keyboard, so you'll occasionally need to bust out a can of Dust-Off. That being said, there isn't much to complain about. Typing is a pleasurable experience, thanks to the reasonable amount of tactile feedback. And, thankfully, the keys aren't mushy like those found on cheap 'boards that come packaged with the average desktop. The serious typist may cling to her IBM Model M, but we had no problem banging outposts and rants on this guy — which says as much about our aggro-typing as it does the Logitech's quality composition. Other keyboards may have more shortcuts and programmable buttons, but we think the basic media controls (e.g., volume up/down, play/pause, etc.) with accompanying e-mail and search keys are more than enough.
The mouse is also a no-frills affair with two simple buttons and a scroll wheel that doubles as a third. The rubberized sides ensure that you won't lose your grip, and may stave off carpal tunnel for a few more years. We had some minor issues with tracking on smooth, featureless surfaces like our glossy desk, but it worked fine on most other surfaces, including our pant leg — seriously. (If you can see your reflection in your furniture, you'll want to invest in a mouse pad. And, as a boon to those with spacious living quarters, it'll control the cursor from the next room. Logitech doesn't provide an official estimate of range, but we were able to keep typing from 40 feet away. (Sadly, we couldn't get any further from the PC without leaving our tiny apartment.) Conceivably, we could take it on the go, since the set is light enough to carry easily, and it feels solid enough to survive a small fall — say, from the couch to the floor. Don't chuck it out of a third-floor window, though. (Its build isn't that solid, and you might startle the neighbors.)
We haven't really had a chance to test the battery life of the setup, but Logitech claims the keyboard can last up to three years while the mouse can stick it out for one, just on a single set of batteries. All we can tell you is that both are still kicking with the included batteries after our time with it.
But the best part of the MK520 set is that it just works. There's no software, you don't have to pair it with your PC, and we experienced no lag between input and on-screen actions. Just plug the tiny wireless adapter into a USB port, turn on the keyboard and mouse, and you're ready to roll. This is all thanks to Logitech's Unifying technology, which the company uses for many of its wireless keyboard and mouse models. Not only does this provide a better experience than Bluetooth, but if your dog decides to use the mouse as a chew toy, you can just pick up another Logitech wireless pointer without worrying about pairing. We had no trouble just plugging and playing on both our Windows 7-based PC and our Ubuntu machine. Logitech makes no claims of Mac compatibility and we didn't get to test it for ourselves, but users report that it works with some minor caveats. Reportedly, the keyboard and mouse should be fine with your Mac for basic use, but the special shortcut keys might hiccup. When measuring the bang-to-buck ratio, though, we can't find a better solution than this durable and sleek-looking duo. Besides, as we all know, everything matches black.