Which is the Best PDF Editor for Windows & Mac in 2023
Applying online for a job is difficult because you have to print out the application form, fill it out, and scan it to send back to the recruiter. To keep a distance from such hassle, you have to take help from a powerful and best PDF editor that can make PDF forms editable. 
On the internet, you can search for PDF editing tools, but all options that pop up are not completely reliable because each has shortcomings. One thing which must be kept in mind while surfing online is that a PDF editor should be versatile enough to make many types of changes in the file. This article will discuss a powerful PDF editor that will help you with all your daily tasks.
Part 1: Does Windows or Mac have a Default PDF Editor?
Are you looking for a built-in PDF editing tool on your Windows or Mac? Unluckily, these operating systems do not hold any type of default PDF editor that can edit text, images, or link in the files. Windows allows only viewing PDFs in Microsoft Edge, while Mac permits viewing and annotating PDFs in the Preview app. 
Since both devices are reluctant to perform PDF edits, you must have a third-party PDF editor tool to increase productivity. To learn which is the best PDF editor and what functions it can perform intelligently, read the article further.
Part 2: The Best PDF Editor for Windows & Mac in 2023
UPDF, an advanced PDF editing tool, is excelling in the digital market due to this highly efficient editing features. This best PDF editor is convenient to use because of the user-welcoming interface, which is not only understandable but also delightful. Every person can make remarkable changes to the document, like changing the text, replacing the hyperlinks, and substituting the images. 
More Features in UPDF:
The tool is an all-in-one PDF solution. Except the editing feature, it is also trusted by people worldwide because of its following features:
1. Easily Convert PDF 
Converting PDF files to other formats or vice versa can be performed by using UPDF. Apart from changing PDF to Word or image file, this fantastic tool can convert PDF to Text, RTF, HTML, and XML in just a blink. Moreover, its advanced OCR technology can convert scanned PDF files to editable and searchable files.
2. Amazingly Annotate PDF
The annotating feature of UPDF is so well designed that anyone can add comments, shapes, and signatures to any part of the PDF file. Apart from these things, you can also use stickers or stamps to make vibrant PDF files and text markup to pinpoint the important or unimportant lines. Moreover, the annotated PDF can be shared with anyone via a single link to establish secure collaboration between team members.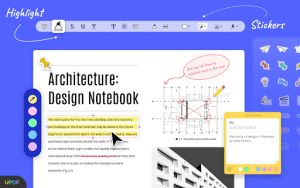 3. Professionally Organize PDF
People stressed out due to the unorganized PDF files can organize each file very professionally. From adding to deleting, rotating to rearranging and splitting to replacing pages, each task can be performed using this best PDF editor. PDF pages can also be cropped, and the size of the cropped page can be readjusted whenever required. 
4. Effectively Handle Page Tools
If you want to protect your file from theft, add a watermark as PDF, image, and text. UPDF also allows changing the background of PDF to make it attractive and appealing. Moreover, you can insert the date and page number into any document and change the layout of the header and footer. These features of the page tool add a professional look to the file.

Part 3: How to Edit PDF Files with UPDF The Best PDF Editor?
Multiple editing options are available on UPDF, which can be used by professionals and students quite easily. If anyone of you is facing difficulty in using the editing feature of UPDF, read the following instructions to edit PDFs easily:
Step 1: Open PDF File on UPDF
Download UPDF and launch it on your device. Go to the "Open File" option, select the PDF which requires edits, and press the "Open" button. When the file opens, tap the "Edit PDF" icon present on the left panel.
Step 2:  Edit the Document Text
After accessing the Edit PDF mode, all the elements in your document will become editable. You can double-click on the text which you want to edit. Change the written text and its formatting as well, if required. If you want to add more text, then select the "Text" option from the top and double-click on the preferred area. Next, select the text style, size, color, and alignment, and then write the text. 
Step 3: Edit the Image in PDF
You can double-click on any of the images present in your PDF to modify them. By double-clicking on any image, a set of options will appear on your screen. Moreover, you can also right-click on any image to access the editing options, such as "Extract Image," "Crop Image," "Remove Crop," and many others.
Step 4: Edit the Document Links
To edit a link, select the link present in your document by double-clicking on it. Go to the "Properties" option to change the link type, line style, line thickness, and border color. After completing the editing process, press "Ctrl/Command +S" to save the document edits.

Part 4: The Major Differences Between UPDF and Adobe Acrobat
UPDF is a far better PDF editor than Adobe Acrobat; that's why more than 1 Million people around the world trust this tool. If you also want to know how UPDF is the best PDF editor, then read the following differentiating points:
1. Cost Efficient 
The Pro version of Adobe Acrobat is $239.88/year which is a huge price when compared to the annual price of UPDF premium, which is much more cost-effective. Moreover, a single license of UPDF can run on multiple platforms like Mac, iOS, Android, and Windows. 
2. Easy to Use
It is easy to edit PDF files on UPDF because each feature is well-organized and easy to understand. However, using Adobe Acrobat for editing is a difficult task, and not everyone can perform it well.
3. Multiple Features
Adobe Acrobat has limited features compared to UPDF, which is why many people are inclined toward the latter tool. You can add stickers and change PDF to GIF on UPDF, which is impossible on Adobe Acrobat. 
4. Work Swiftly
UPDF is a highly advanced tool that doesn't hold any malware and works at a blazing-fast speed. You will not face any lag while dealing with multiple PDFs simultaneously. In contrast, Adobe Acrobat has outdated algorithms, that's why it shows many glitches.

Conclusion
From the above information, it is clear that UPDF is a far better PDF editor than Adobe Acrobat. Its user-friendly interface, fast-performing system, and versatile features make UPDF the best PDF editor worldwide. Above all, you can efficiently resolve all the PDF-linked problems under one roof. So, download UPDF now and try the above-stated steps to edit PDF files.